nevergiveup™ Flagship Collection
hustleplay.co
Apparel for doing what you love.
This brand is a transformative platform encouraging a growth mindset and emotional intelligence. The apparel products serve as wearable reminders to do what you love, hustle smarter, play funner & #nevergiveup.
In the game of life, you gotta COACH up a win! ~Justin
hustleplay.co™ Signature Collection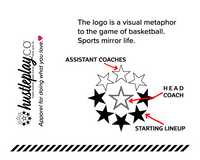 What is a hustleplay?
see potential in the moment;
willing to hustle
to go above and beyond
to make your play
no matter the odds
Texas Farm Road 420 Collection
Neon Milky Way Collection
AWESOMESOUNDSYSTEM.COM Merch